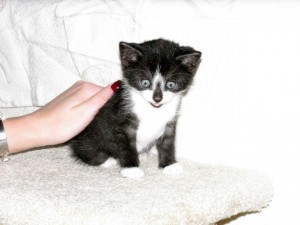 I am pleased to announce that on Wednesday, September 17th Natalie and I have adopted a new black and white Domestic Short Hair kitten, who we have affectionately named Taijitu (Tie-Jee-Too) – or Taiji, for short. Taiji replaces the void left in our home and in our hearts following the passing of Blacktop, Natalie's cat who had been a large part of our lives for years. Blacktop was 20 at the time of her passing, so was with Natalie for 2/3 of her life and almost half of mine. The void present was large as we both love animals and especially enjoy caring for them.
While we certainly missed and mourned Blacktop, it became apparent that the only option that would fill the hole in our lives was to get started on giving another cat a great life. A little over a week ago, Natalie informed me that a local store that works with regional animal shelters and private breeders was bringing in a litter of kittens the following Monday (9/15). Specifically, she said, the owners had confirmed that one of the kittens was mostly black and likely had white paws as well as some other markings. Now, long before Blacktop (an all white American Short Hair) had reached the end of her life, Natalie and I had both talked about what our next cat might be and we both noted that we would like a black cat – and if we were lucky this black cat would have white paws and/or a white tip on its tail. So, news that a possible perfect match to our aesthetic feline wishes was quite pleasing to the ears.
That Monday, Natalie confirmed that she would indeed be heading to the store to check out the litter. Upon arriving she looked at all of the 5-6 week old kittens, which included two black and white kittens and one all black kitten. It has always been our belief that the kitten will essentially choose us, not the other way around. We look for personality and that "spark" or instant connection that illustrates something special is going on. Sure enough, while playing with the kittens, one stood out to Natalie by playing together with her and then sitting with her on her leg. When Natalie looked down at the kitten he touched her nose with his… and she sent me a text message that I should meet her at the store. Having only just learned that Natalie was looking for a new kitten, I didn't know what to expect; was this the first cute kitten she had seen? Was this just an impulse? Or was this what would become our companion for (god willing) the next 20 years as blacktop was? Somewhat nervously (because I [a] wasn't necessarily sure I was ready and [b] didn't want to be the bad guy and tell Natalie she couldn't have the kitten), I drove to the store.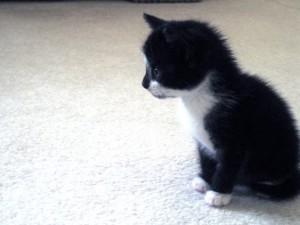 I arrived at 'Pick of the Litter', in Strongsville, to find a very cute kitten straddled upon Natalie's shoulder. With a "teardrop nose" as one of the young daughters of the owner had described the kitten, he looked unlike any cat I had seen before: Quite bold and striking, and yet still tiny, unstable and cute. The marks on his face were all I could look at, until Natalie pointed out his white chest and feet. Indeed, he was very unique and looked a lot like what we had dreamed somewhere around a year prior to this visit. I could tell Natalie was enamored with the little guy, and so we had the store hold him under our information while we went home to talk about it. Specifically, I wanted to look around and make sure that indeed this was the one. So, with growing excitement, Natalie and I went home and looked up shelters via websites like Petfinder.com to see what else was available to us.
We found a litter that had been rescued after they were abandoned at just 2 weeks of age. (Seriously? Are you just that SICK? There was nothing else you could do, so you just left them without any care – not even the litter's mother? What the hell is wrong with you?) 5 cats total, 2 of them were all black and 2 were black with at least partially white paws, 1 tortoise marked female – the alpha of the litter. We wanted to see them, so we contacted Pick of the Litter and told them we needed until lunch time the following day to make a decision and they agreed to hold him for us. 10 minutes later I got a phone call from them, however, that someone was interested in buying him from the store and they wanted to give us first shot at him. Without hesitating, we put a non-refundable deposit down on him to make sure he was ours – we were that sure that he was the one for us. Still, we drove to Old Brooklyn to check them out, and they were all very cute as well (amazingly, we did not notice 1 ugly kitten in our search! Crazy!). However, we never felt the connection that we felt with the little guy back in Strongsville and so, we called Pick of the Litter back to inform them that we would be in to pick him up that evening. And, that night, we did just that!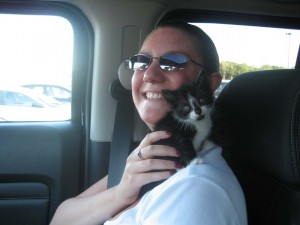 Taiji was excited to see us when we picked him up, which made it all that much more obvious that we were making the right decision – on all fronts. We didn't know what we were going to name him at that time, but we knew that we had lots to show him at the house and lots of love to start giving him. So we got right to it.
The tiny little 6 week old took his first steps in the house at just after 6:00pm, kicking off an exciting time for all three of us.  Enjoy some pics!