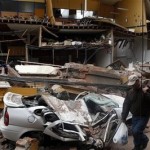 The country of Chile has been struck with one of the strongest earthquakes ever recorded – a magnitude 8.8 quake that has destroyed buildings and infrastructure and sent a Tsunami racing west/northwest alarming those lands, countries and vessels in the Pacific.  A 'state of catastrophe" was declared by the Chilean President and massive damage and an incredible death toll are both expected and feared.
The earthquake was felt as far away as Sao Paulo, Brazil.  Wow!
Check out this NY times page that has great maps of the epicenter of the event and the geology behind it, plus some tsunami forecasting.
Quite the slide show of the earthquake pictures at Yahoo.
Unbelievable.  Thoughts and prayers go out to all of those affected.