If you were watching the Olympics, last night, I hope you caught the skate of Joannie Rochette's life (see also CNN's Rochette article, here) … and if you watched her skate I hope that her effort and her emotion tugged at your heart strings because I know she sure did for me.  I'm not a fan of ice skating so much as I am a fan of athletic achievement and last night's performances on the ice were pretty special – none, though, were more special that Joannie Rochette's.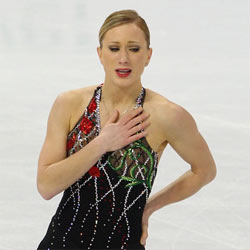 Imagine that just two days before the event of your life – in this case her home country staging the Winter Olympics in which she is a participating athlete – your mother of father dies suddenly, at an age far too early and without warning or signs.  Position yourself on a map so that you are far away from home – in this case completely across the country from where she calls home in Quebec.  You have no time to mourn, barely enough time to make plans, and probably no way to even get your parent's body sent back home (I don't even know how you would accomplish that task, anyway).  Imagine the swing of emotion from absolute excitement and pressure to being crushed with sadness, loss and depression.  Now… go out and perform like an Olympic champion on the world's biggest stage and do it all on ice, while balancing, jumping, spinning and dancing on two 1/8″ pieces of steel strapped to the bottom of your feet.  Are you kidding me?  Maybe the fact that I can barely stand upright on skates of any kind is influencing my opinion, here, but I think that's flat out amazing.
I honestly don't know what I was feeling the most during her skate.  Was it hoping that she did well because of all the hard work and time she had put into getting to this stage?  Was it simply hoping that she would not fall on any of her jumps or have any problems during her skate because of the seemingly strong likelihood of that happening?  Was it hoping she would do well to honor her mother's life?  Was it actual excitement for the quality of her skate?  All I know is I was on the edge of my seat … for the first time during Olympic women's figure skating … and I could not blink.
You could hear the crowd suffering the same fate.  At times they were simply holding their breath.  At times they were likely choked up.  At times they were into the music, clapping, rhythmically into the performance.  At times they were excited, then hopeful, then back to worried.  I know, even without being there, because that's what I was going through thousands of miles away in my own home.
Somehow she pulled herself together and competed – so well that she earned her personal best score for her efforts.  When she finished she was immediately overtaken with emotion, as anyone should have expected.  By the looks of things she was teetering on that edge just BEFORE she took to the ice so I can only imagine the rush that came over here at the end, after performing so well – a performance her mother would never physically see.  Immediately, I welled up inside and out as if somehow I completely understood what she was going through when there's just no way that I could.
What a champion.  In a world looking for heroes searching for individual efforts that inspire – here we were provided with a tremendous example in the form of a French speaking Canadian figure skater.  Absolutely one of the most amazing Olympic stories/moments I've ever heard of and I will never forget it.