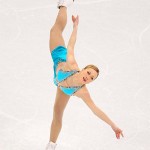 Joannie Rochette (click here to visit Joannie Rochette's website), just days after her mother died from an apparent massive heart attack, completed an amazing Olympic performance by winning the bronze medal in women's figure skating at the 2010 Winter Olympics in Vancouver, B.C.  Kim Yu-Na. easily the best performer of all the women competing in the event, won the gold medal while Mao Asada finished second and took the silver medal.
I find this a perfect ending to this Olympic's women's figure skating event.  I've repeatedly said that I'm not really a figure skating fan – let's be honest, I rarely even watch unless Natalie has it on TV.  When I do watch it is generally because there are interesting sub-plots or stories that I have picked up on the airwaves and which make it more interesting to me.  As I wrote a few days ago when Joannie Rochette skated her heart out during her short program two days after her mother had died, her story had me on the edge of my seat and struggling to hold back my own emotion and knowing just how to feel or even breathe at times.  After that, I was hooked and needed to watch the remainder of the event to make sure that I caught the conclusion.
Watching the skaters and hearing the backgrounds of the skaters as put forth by NBC announcers, it seemed pretty clear that the top two performers were South Korea's Kim Yu-Na and Japan's Mao Asada.  The race behind them (barring unfortunate performances by either of the top two) was for bronze and respectable finishes (though Rochette did beat Asada in the past).  After the short program, Joannie Rochette was sitting in third place and I will admit I sort of wanted that to be the order of finish as well.
What I didn't want was for Joannie Rochette to get onto the ice and finally fall victim to the emotional mess that was surely inside of her.  I didn't want her to go out and falter on a jump while on this grand stage and then miss out on a medal as a result.  I thought that a bronze medal for her would be a triumph, actually, and something that would make the whole family – indeed the whole country of Canada – proud.  However, while I didn't want her to falter I wanted to see her do well.  I wanted to see her go out and be the tough, focused, determined individual that she showed during the short skate.  It was as inspiring an effort as I have witnessed for some time and, selfishly, I wanted to see the encore performance.  I wanted to see her go out and win!
She put on another inspiring performance, even if there were a couple of moments where all of us uneducated figure skating "fans" witnessed something we were sure was a small mistake.  Her performance vaulted her back into 3rd position after some skaters had performed well enough in front of her to get into that position just prior to her turn to hit the ice.  From there she had to hang on as a young American, Mirai Nagasu, took her shot at the podium.  She, too, skated well but would have needed a pretty much flawless performance to reach the bronze medal due to the quality of Rochette's short and free skate performances.
Rochette's score did hold up and she finished off the success with another kiss to her mother towards the sky in another touching moment of emotion.  Again, Natalie and I both welled up a bit as she skated off the ice to a massive ovation and a shot of her father appeared on the TV.  I think both of us were thrilled to have seen what unfolded in front of us on the TV – I know I will personally never forget it.  I truly feel as if a new hero was born on Tuesday, during her short skate, and today it was confirmed for the world to see.
During the medal ceremony, the range of emotion on the podium was stunning.  Kim Yu-Na was proud, happy and clearly relieved of all of the pressure that she had placed on her from her country and her sponsors.  Mao Asada looked like she wanted to be happy but was more disappointed and awaited some fateful results of her own pressures of competing with and losing to her South Korean counterpart.  And then Joannie… fighting to stay tough on the podium but realizing the enormity of it all… you could see the sadness, happiness gratitude and fortune all churning through her from the moment she stepped onto the podium throughout the raising of the flags.  I can only imagine what that must have felt like – perhaps the ultimate taste of bittersweet?   I would think so.
Congratulations, Joannie – you earned it and your mother is as proud as she could be for you.  You and your family inspired many of us through your toughness, ability to focus, gracefulness and classiness… and of course your athletic achievement as well.  This will all not soon be forgotten.
LaCha'im (To life!)